I know, my birthday was
over a month ago
! But I can finally do this post, because my final present finally came in! I'll put them in the order I received them.
From Mom: Forever 21 top and dress; Charming Charlie earrings, necklace set, and bracelet; black and white lace socks; bling bow ring; 2 necklace sets, earrings, and cuff bracelet from Jewelry and Handbag Warehouse.
I got the most from my mother, of course. She actually wasn't really able to go shopping beforehand for me because of the tornadoes, so she just took me out and
bought whatever I wanted
! So I made sure to buy cheap things so I could get even more! haha Its not all pictured here...I've been wearing all the stuff she gave me so much I've misplaced some of it!
My favorite items: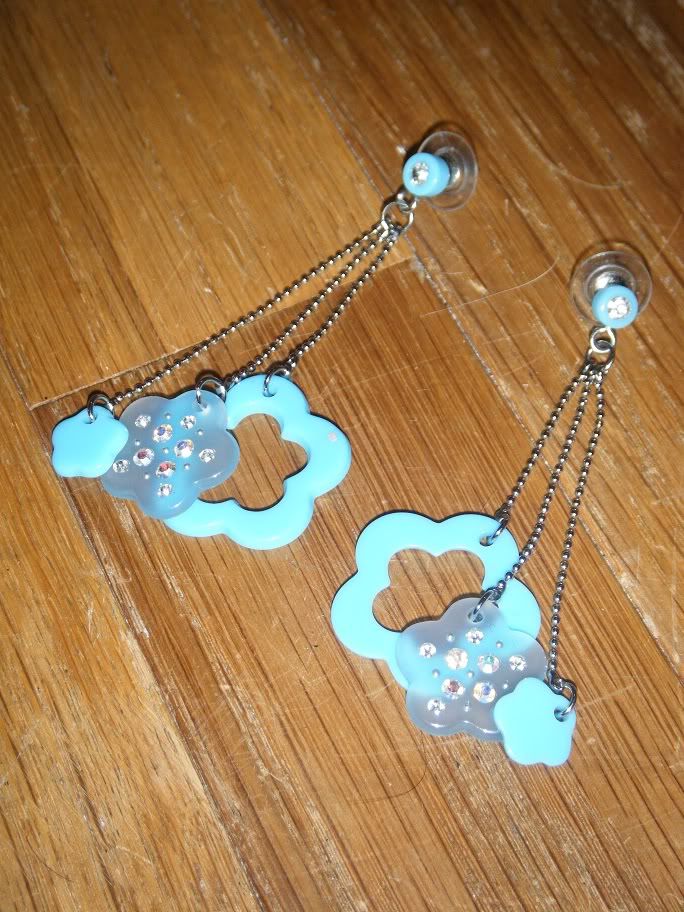 I also really love the lace socks she gave me...but they need to be washed. >.>;;;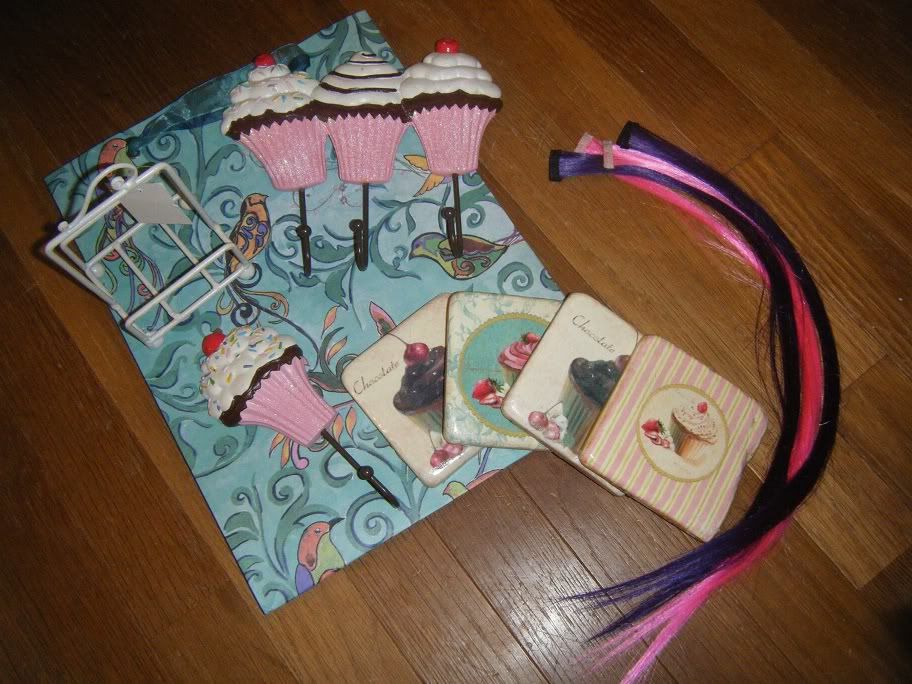 From Tara: 3 prong and 1 prong cupcake wall hangers, cupcake coasters and display, mini cupcake jar (not pictured), and a $30 gift card for Sally's Beauty Supply.
My favorite thing from my older sister Tara is the
Sally's gift card
, which I used to by colored hair extensions, among other things.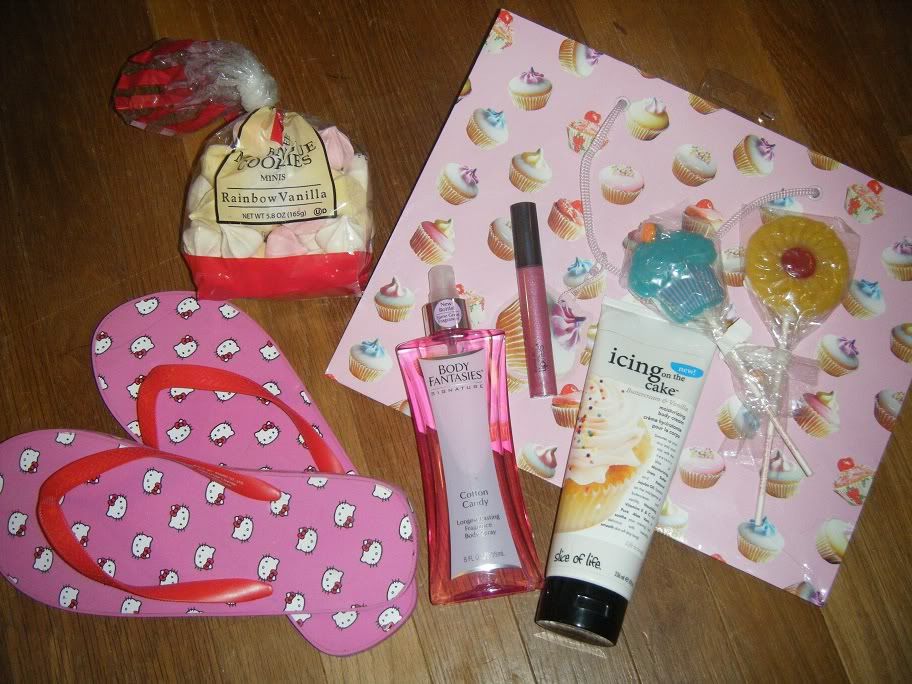 From Stella: Hello Kitty flip flops (my first pair!), Cotton Candy perfume, Cupcake lotion, lip gloss, 3 sweet shaped suckers (my sister ate one T_T), and meringues!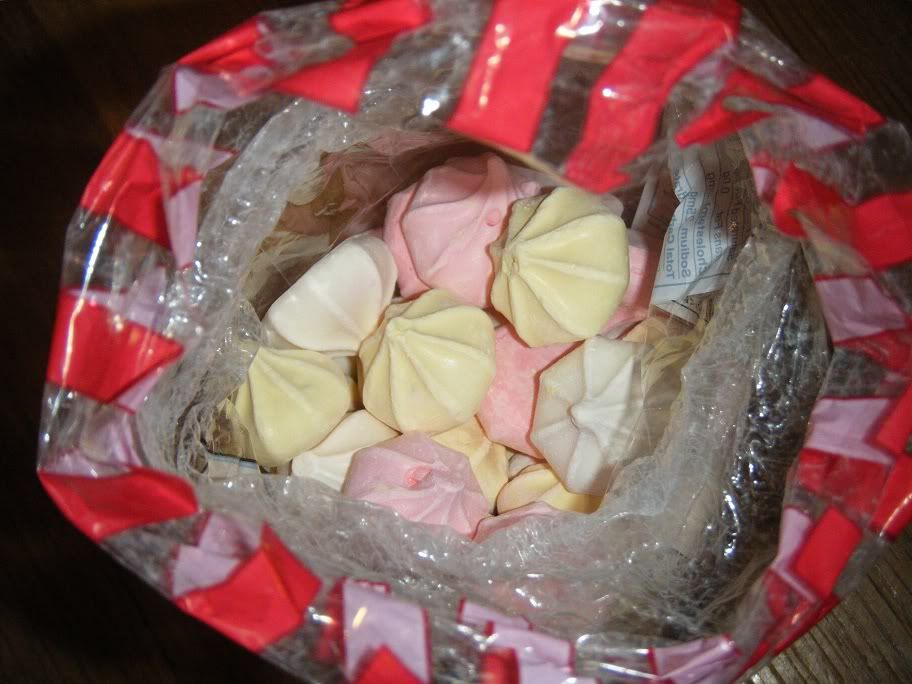 I didn't think meringues would taste so good, since they are mostly egg. But they really are yummy! They taste like
giant cereal marshmallows
.
Jonna didn't have much money so she got me some fun party things like bubbles and silly string. She also got me a cute colorful sketchbook!
I draw
btw, don't think I've mentioned that before. Although not nearly as often or as well as I used to! T_T
I've been using this cute purse from Pix lately, and I was really happy she got me a pedicure kit since someone broke my foot file!
Rin ordered me the second issue of
F*X*T comic magazine
. It took a long time to get in because F*X*T apparently had an issue with printing, and some of the magazines pages had gotten put in the wrong order. I was really excited since one of our
favorite artists
,
Rem
from
blackmootides
, did the cover art and had an interview in this issue. It also came with a
lovely mini poster
of her cover art that I plan on framing!
The cheater! Rin was
wearing circle lenses
when she gave me my present. I didn't even know she had ordered any! But thats ok, I ordered my lenses
yesterday morning
!
I ordered GEO fresh gray, and GEO tricolor green.
I ordered from
Honeycolor
, but I'm already a little nervous about the site. Either the website or my browser was having troubles and I had to refresh the pages a lot. I went ahead and set up a membership with the site before I ordered, and I received a receipt from both Honeycolor and Paypal. However since ordering, I haven't been able to log back into Honeycolor. It says it doesn't have my e-mail on file, which is interesting since I've
already received an e-mail from them
! I really only want to be able to log back in because Honeycolor offers a points reward system, and I'd like to check that out. I think my order will come through fine, but I really don't think I will order from this site again. Wonky sites
make me nervous
! Has anyone else ever had problems with
Honeycolor
?